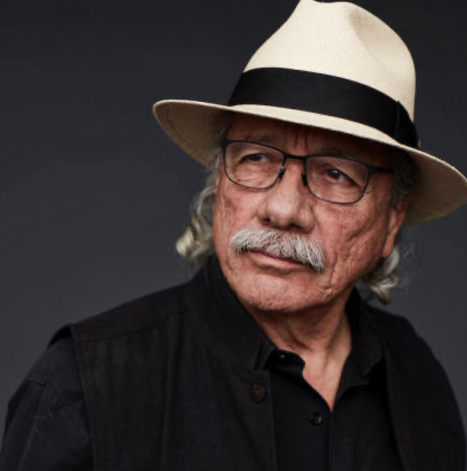 Edward James Olmos
Appearing: Sat & Sun Only
Autograph: $50
Selfie: $50
Autograph/Selfie Combo: $80
Pro Photo Op: $65
Each Photo Op Ticket is good for up to 2 adults & 3 children 15 and under. Includes an 8"x10" Print + Digital Copy. More Details
Purchase Pro Photo Op: Click Here
Edward James Olmos is best known for his roles as Lieutenant Martin "Marty" Castillo in Miami Vice (1984–1989), American Me (1992) (which he also directed), William Adama in the re-imagined Battlestar Galactica (2004–2009), teacher Jaime Escalante in Stand and Deliver (1988) (for which he received an Academy Award nomination), Detective Gaff in Blade Runner (1982) and its sequel Blade Runner 2049 (2017) and the English dub voice of Mito in the 2005 Disney dub of Nausicaä of the Valley of the Wind. In 2018 through 2022, he has played the father of two members of an outlaw motorcycle club in the FX series Mayans MC.
For his work in Miami Vice, Olmos won the 1985 Primetime Emmy Award for Outstanding Supporting Actor in a Drama Series, as well as the Golden Globe Award for Best Supporting Actor – Series, Miniseries or Television Film. For his performance in Stand and Deliver, Olmos was nominated for a Golden Globe Award and the Academy Award for Best Actor in a Leading Role.
He is also known for his roles as folk hero Gregorio Cortez in The Ballad of Gregorio Cortez, patriarch Abraham Quintanilla in the film Selena, narrator El Pachuco in both the stage and film versions of Zoot Suit, and the voice of Chicharrón in Coco.
Over the course of his career, Olmos has been a pioneer for more diversified roles and images of Latinos in U.S. media.[3][4][5] His notable direction, production, and starring roles for films, made-for-TV movies, and TV shows include Wolfen, Triumph of the Spirit, Talent for the Game, American Me, The Burning Season, My Family/Mi Familia, Caught, 12 Angry Men, The Disappearance of Garcia Lorca, Walkout, The Wonderful Ice Cream Suit, American Family, and Dexter.