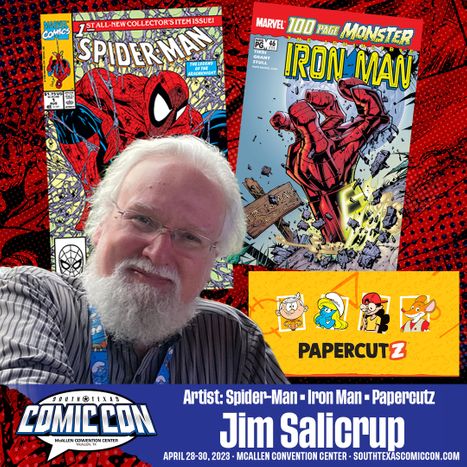 Jim Salicrup
Appearing: All 3 Days
Autographs: Prices vary, please visit the autograph booth for details.
Jim is best known for his work at Marvel Comics, editing most of their top titles, such as Spider-Man, The Uncanny X-Man, The Fantastic Four, Iron Man, and many more. He also was the editor on Marvel Age Magazine for eight years. After Marvel, Jim developed a line of comics for the Topps Company, Inc., where he was Editor-in-Chief. Jim was also Senior Writer/Editor for Stan Lee Media, and a Trustee for the Museum of Comic and Cartoon Art.
Jim is also the Editor-in-Chief of Papercutz, the graphic novel publishing company he co-founded with Terry Nantier. Papercutz is devoted to publishing great graphic novels for all ages: Annoying Orange, Ariol, Classics Illustrated, Dance Class, Disney Fairies, Geronimo Stilton, LEGO® Ninjago, LEGO Chima,Lunch Witch, Nancy Drew Diaries, The Smurfs Anthology, and many more. Recently, Papercutz launched a new imprint, modestly called Super Genius, which publishes titles such as WWE Superstars, Neil Gaiman's Lady Justice, and more.