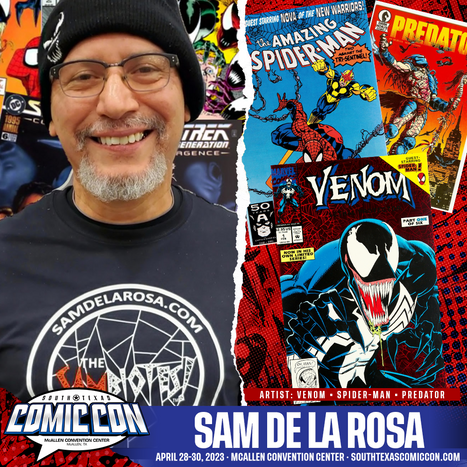 Sam de la Rosa
Appearing: All 3 Days
Autographs: Prices vary, please visit the autograph booth for details.
Since 1982, Sam de la Rosa has penciled art/finished art/inked art for Marvel, DC, Image, Disney, and Dark Horse. His credits include Spider-Man, Venom, Carnage, Black Panther, The Avengers, Star Wars, X-Men and more. At DC Comics he worked on Superman, Batman, Green Lantern, Star Trek, Firestorm and others. In 1989 he worked on the 1st and 2nd Predator comicbooks for Dark Horse Comics. Sam's work on VENOM LETHAL PROTECTOR #1-6 is the main basis for the VENOM MOVIE. The VENOM: Let There Be CARNAGE movie is based on MAXIMUM CARNAGE, another popular storyline Sam worked on. His Venom Lethal Protector #1 cover has been produced as a Funko PoP!